Véra Léon and Ella Ziegler, last year's participants of the exchange program, will show their works created in Berlin and Die in the Museum Lounge from February 2, 2023.
The exhibition will provide an insight into the Berlin-DIEresidenz exchange program until April 16.
Since 2018, there has been a cooperation between Lichtenberg Studios and DIEresidenz, a house located near Die, France, where curator Conny Becker lives with her family. The house is only 10 minutes away from Die by bike and yet is completely secluded in the "dark" forest. For the respective Resident*innen a granny apartment and a studio are available.
Véra (&) Léon
Invisible Walls
In exchange with DIEresidenz (Drôme, France), the duo Véra (&) Léon will work at Lichtenberg Studios for three weeks in the summer of 2022. Their original project was to portray queer people in Lichtenberg. A more difficult goal than expected… a problem that the duo transforms into a poetic diary about queerness, the artistic process and social representations.
The text JOURNAL OF AN IMPOSSIBLE INQUIRY was created as an echo of a visual narrative that questions the ever-changing urbanity of Berlin. The photographs from the archive of the Lichtenberg Museum used as background create a parallel world to the mental images evoked by the poetic diary. This causes an oscillation between past and present, between sensitive and political experiences of the city.
The 16 photographic portraits, closely interwoven with the poetic diary, are also concerned with the intimate relationship between the queer body and its environment. Co-produced with their models, these images question the contradictions of our imaginary world: nature and city life, curiosity and voyeurism, otherness and identity. (Véra (&) Léon)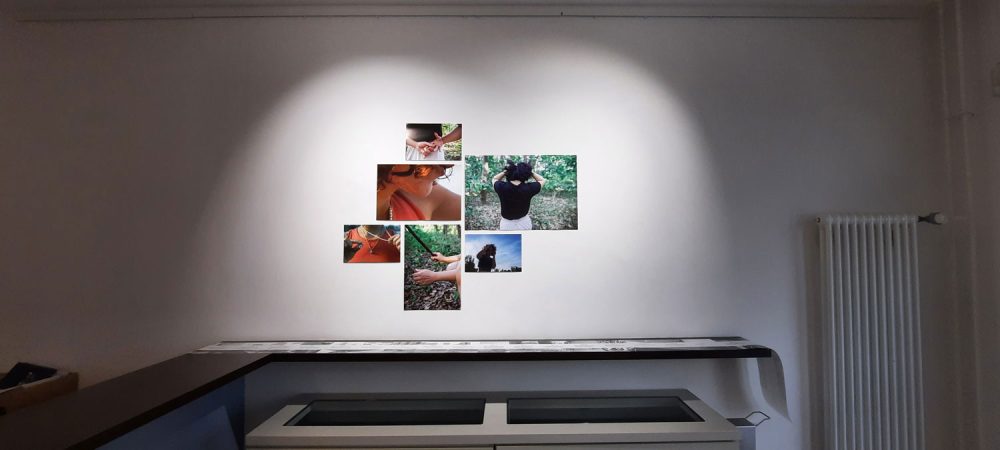 Ella Ziegler
Lucent Cracks
Ella Ziegler shows her project Lucent Cracks, an installation of poetic fabric banners created during her month-long residency at DIEresidenz in the French province. Working with a conceptual approach, she responds to the surrounding mountainous landscape with a few words, Haikuesque half-sentences and geometries. The artist condenses thoughts on the omnipresent, almost overwhelming nature of the Diois on white nettle, which, like the rocks of Mount Glandasse, can be seen as a projection screen on which emotions and stories are reflected. Ziegler, who often negotiates the relationship between body and space in her work, radically alters the perception of the exhibition space with her large-scale works, which in turn echo the rock walls with their physical effect on the viewers. (Conny Becker)
"My thoughts in Die were mainly about the perception of the landscape and its physical phenomena and conditions.
It was about the echo, the light, the rock face as a projection and reflection surface for sunlight and sound, the idea that this landscape was formed by the movement of water, by faults and folds. Surrounded by mountains, I felt like I was underwater, because the mountains are a landscape reference point at altitude. The lichens are like coral, the rock faces like reefs, and the fossils like solidified sea creatures.
The word combination HORIZON TRANSLUCENT CRACKS or HORIZON LUCENT CRACKS is about cracks in the horizon line. When we look at landscapes, we see their beauty, but we also know about the threat of cracks and predetermined breaking points in the horizon line." (Ella Ziegler)